Piceo App available for iPhone & Android.
Download for FREE and start sharing today.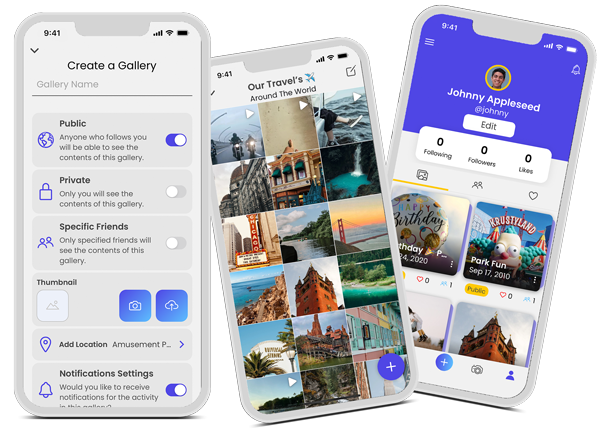 How it Works
Piceo allows you to create public, private, and specifically shared galleries for friends and family.
Create a gallery, upload your photos and videos and share instantly. Once a gallery has been shared, anything uploaded to that gallery will automatically show up for your friends and family sharing the same gallery.
---
Key Features
Some of the great features you can expect from Piceo.
Free Signup
Always Free No Credit Card Required.
User Friendly
Interface Designed for Ease of Use and Navigation.
Connect With People
Search, Follow and Creat Groups for Sharing Memories.
Controlled Sharing
Share Only what you want with who you want.
Private Galleries
These private galleries are only for you and no one else.
Commenting / Liking
Social interaction on all photos and videos.
Notifications
Get notified on anything happening in your Galleries.
Cloud Storage
Don't worry about space on your phone, we store everything in the cloud for easy access.
---
---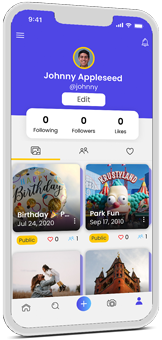 Share Your Moments and Memories
Create shared galleries for your family and friends. All photos and videos uploaded to the shared gallery will instantly be available for others to enjoy.
You will be able to control all aspects of the shared gallery including who can access them and the order of the items in the galleries as well.
Instantly Share Photos and Videos
No more spending time AirDropping or Texting each other at the end of them event. Once the photos and videos have been uploaded to the desired gallery, just share it with your group.
They will be able to see all items uploaded to the gallery instantly. No more getting mad because someone forgot to send you the pictures or videos you were in at the party.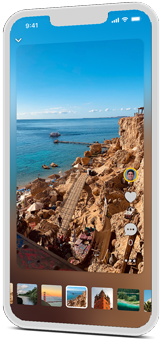 Downloads
Piceo App available for iPhone & Android.
Download for FREE and start sharing today.
Download on the
Get it on